Get on board with free agri­cul­tur­al software.
Man­age your busi­ness with one sin­gle appli­ca­tion. Record and analyse your data and opti­mise your yields — all on one platform.
Free farm management
365FarmNet is the man­u­fac­tur­er-inde­pen­dent agri­cul­tur­al soft­ware for com­pre­hen­sive and effi­cient farm man­age­ment. Dis­cov­er our free basic pack­age here, includ­ing cross-com­pli­ance doc­u­men­ta­tion, graph­i­cal farm map, plan­ning func­tion, basic weath­er and var­i­ous apps. This is the ide­al and risk-free starter plat­form for your dig­i­tal agri­cul­ture. You are already well equipped with the free basic pack­age and on the way to smart farming.
This ensures you have a quick and clear view to hand of all the data for your fields. Ful­fil your doc­u­men­ta­tion require­ments and fur­ther con­di­tions effi­cient­ly and in line with cross compliance.
Gen­er­al stock and mas­ter data management
Man­age your busi­ness, your machines, staff, fields, fer­til­iz­ers, pes­ti­cides, your seed and pricing.
Inter­ac­tive annu­al calendar
Plan and man­age your time and work orders with a few clicks.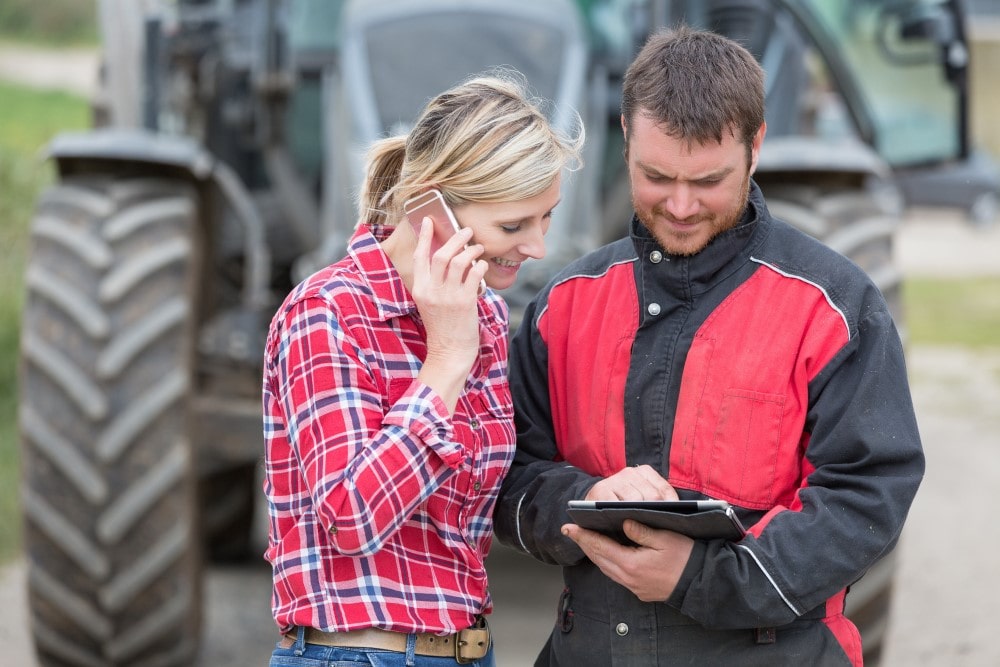 Opti­mise crop pro­duc­tion using the basic func­tions of 365FarmNet
Increase your yields, reduce your work­ing hours and save resources with our agri­cul­tur­al software.
Map man­age­ment
Dis­play your graph­i­cal farm map and aer­i­al views for the field map­ping with just one click.
Basic weath­er
Get all of the impor­tant weath­er data for the next few days direct­ly on your home screen and your calendar.
Fer­til­i­sa­tion
The field map­ping con­tains your nutri­ent bal­ance. The nutri­ent report for your fer­til­i­sa­tion mea­sures is dis­played graphically.
Free com­po­nents for crop production
Tai­lor your farm man­age­ment soft­ware to your busi­ness using these free com­po­nents from our agri­cul­tur­al partners.
Your dig­i­tal sup­port for select­ing, dos­ing and decid­ing the time of appli­ca­tion for the appro­pri­ate pesticide.
Cal­cu­late the opti­mal tyre pres­sure based on the machine and soil conditions.
CLAAS TELEM­AT­ICS allows you to see impor­tant real-time infor­ma­tion and trav­el routes direct­ly on the farm map. You can process this data fur­ther in 365FarmNet.
The com­po­nent sim­pli­fies the use of CLAAS TELEM­AT­ICS, cre­ates book­ing pro­pos­als and auto­mat­i­cal­ly pre­pares doc­u­men­ta­tion by cre­at­ing and trans­fer­ring field mas­ter data.
Get off to a free start
Our apps for your farm­ing are always handy whether work­ing out in the field.
365Pocket App
Use the easy intro­duc­tion to work­ing with a doc­u­men­ta­tion sys­tem. Fur­ther analy­sis can be done via Excel/CSV export.
365Crop App
The app specif­i­cal­ly designed for crop pro­duc­tion. Involve any num­ber of employ­ees and doc­u­ment on the go while main­tain­ing cross compliance.
365Active App
The app is a free part of the 365Active sys­tem. It auto­mat­i­cal­ly pro­duces doc­u­men­ta­tion while you work and for­wards your field work­ing hours to 365FarmNet.
This is how it works:
365FarmNet makes the move to dig­i­tal farm­ing eas­i­er for you.
This may also inter­est you