Work­ing on the go in the agri­cul­tur­al sec­tor – Agri­cul­ture apps for farm management
The dig­i­tal trans­for­ma­tion in the agri­cul­tur­al sec­tor is chang­ing the way that farm­ers work in at many dif­fer­ent lev­els. Milk­ing robots, auto­mat­ic feed­ing sys­tems and com­pre­hen­sive herd man­age­ment sys­tems are all now part of farm­ers' every­day lives, par­tic­u­lar­ly for those that run medi­um-sized and large farms. Out in the field, auto­mat­ic steer­ing sys­tems and appli­ca­tion maps are used for crop cul­ti­va­tion. Where­as ear­li­er fer­tilis­er spread­ing charts, the rota­tion­al speed and the ground speed of machines were used to cal­cu­late spread­ing quan­ti­ties, today geo-data is used to farm agri­cul­tur­al land specif­i­cal­ly to each sec­tion. Spe­cial sen­sors and mod­ern satel­lite tech­nol­o­gy pro­vides the data need­ed to do this. As for the account­ing, dig­i­tal appli­ca­tion maps can be used to doc­u­ment and ver­i­fy all mea­sures. Dig­i­tal tech­nolo­gies help farm­ers to man­age their farm oper­a­tions in all areas. Lots of farm man­age­ment tools are now also avail­able in a mobile ver­sion which means that farm­ers no longer have to spends hours and hours in the office. There are lots of fan­tas­tic agri­cul­ture apps for farm­ers with green thumbs. Demand for this has grown in recent years, par­tic­u­lar­ly for crop cul­ti­va­tion. Field-spe­cif­ic deci­sion-mak­ing tools, that can be called up at any time and from any­where, are need­ed. Appli­ca­tions like this that are tai­lored to farm­ers' needs also increase the dig­i­tal equip­ment of farms.
Areas of appli­ca­tion for agri­cul­ture apps
Due to the com­plex struc­tures in the agri­cul­tur­al sec­tor, pre­cise plan­ning with suit­able tools is incred­i­bly impor­tant. Crop plans must be cre­at­ed, inven­to­ry and ani­mal stocks checked, crop cul­ti­va­tion process­es planned and evi­dence trans­mit­ted. In order to com­plete all this work, farm­ers often end up hav­ing to spend at lot of time work­ing on the com­put­er at home. Thanks to more recent agri­cul­tur­al apps, lots of their work can now also be done on mobile devices. The demand for this is main­ly in the areas of field data, weath­er data and fore­casts, expert and mar­ket infor­ma­tion, pub­lic geo-data and cor­rec­tion sig­nals for Pre­ci­sion Farm­ing. The per­for­mance of smart­phones is grow­ing con­tin­u­ous­ly and being adapt­ed to the needs of users. There­fore, there is now also a range of use­ful tools avail­able for farm­ers. One exam­ple of this are agri­cul­ture apps for weath­er fore­casts or his­tor­i­cal weath­er data that can be used to eval­u­ate suc­cess­ful crop cul­ti­va­tion activ­i­ties and plan farm oper­a­tions. The con­stant avail­abil­i­ty of smart­phones and a wide range of apps avail­able means that it is now real­ly easy for farm­ers to dig­i­talise their agri­cul­tur­al busi­ness­es. This is one of the rea­sons why agri­cul­ture apps are most­ly used for weath­er fore­cast­ing in agri­cul­ture. Apps are also par­tic­u­lar­ly use­ful when it comes to plant pro­tec­tion. They can be used to iden­ti­fy pests, weeds and dis­eases. There is also an exten­sive range of apps in the Apple App Store and on Google Play for plant pro­tec­tion prod­ucts. The man­u­fac­tur­ers of agri­cul­tur­al equip­ment, ani­mal feed and min­er­al fer­tilis­er have also recog­nised the poten­tial of these apps and now many offer cor­re­spond­ing services.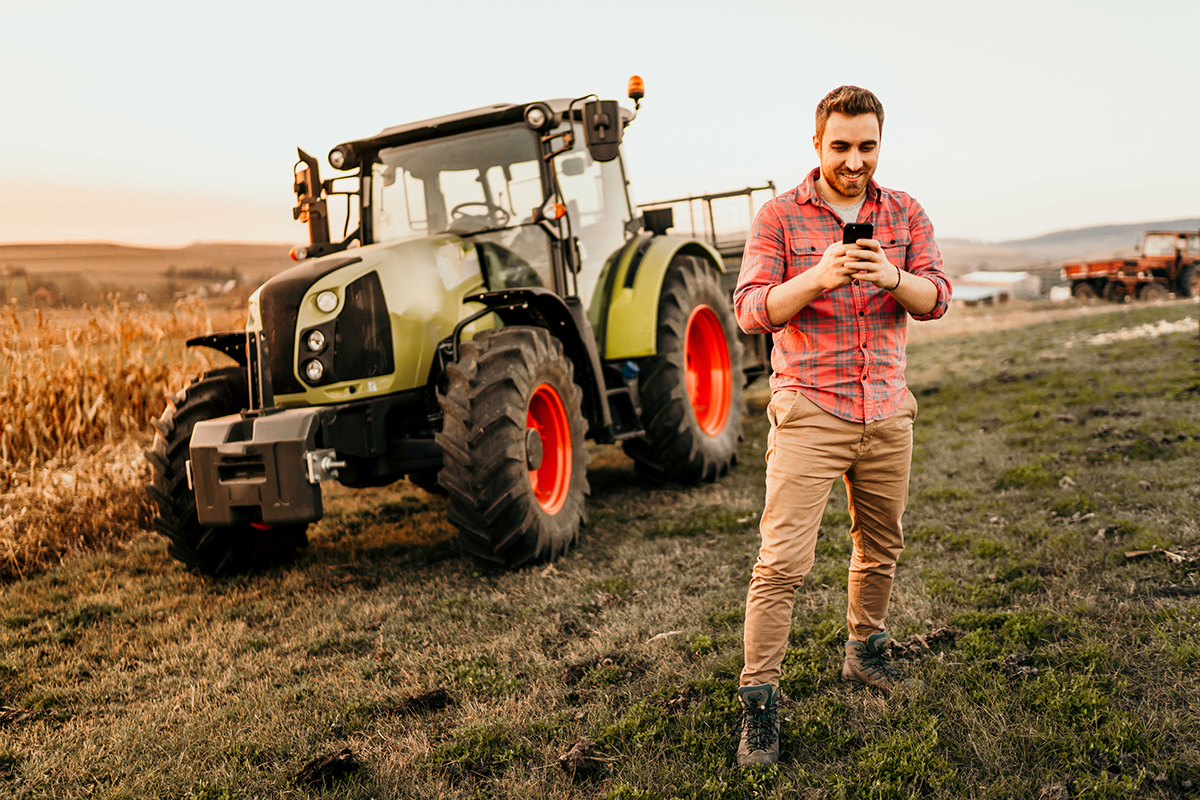 Agri­cul­ture apps from 365FarmNet
Now even the most com­plex process­es can be man­aged with mobile appli­ca­tions. Many agri­cul­tur­al busi­ness­es already use web-based Farm Man­age­ment Infor­ma­tion Sys­tems (FMIS). With these FMIS, farm oper­a­tions can be mapped out, organ­ised and doc­u­ment­ed. Providers like 365FarmNet make it pos­si­ble for farm­ers to use select­ed FMIS ser­vices in the form of an app on mobile devices. For exam­ple, you can use the 365Crop app from 365FarmNet to map out all crop cul­ti­va­tion process­es. The app offers the mobile doc­u­men­ta­tion of crop cul­ti­va­tion mea­sures and it trans­mits infor­ma­tion direct­ly to the 365FarmNet plat­form. With the stored field bound­aries and auto­mat­ic field iden­ti­fi­ca­tion via GPS, sug­gest­ed oper­a­tions are pro­vid­ed and saved in the field cat­a­logue in just a few sec­onds. In addi­tion, data from mul­ti­ple peo­ple can be inte­grat­ed into the sys­tem. The field cat­a­logue pro­vides an overview of all com­plet­ed mea­sures and it can also be used offline with­out any data being lost. All crop cul­ti­va­tion activ­i­ties are doc­u­ment­ed in accor­dance with cross-com­pli­ance require­ments and can be eas­i­ly evi­denced. As 365FarmNet also has a rain radar inte­grat­ed into the crop overview of the 365Crop app, sev­er­al use­ful func­tions are com­bined in one sin­gle mobile sys­tem: field bound­aries, crop overview and weath­er forecasts.
A fur­ther advan­tage of agri­cul­ture apps is the sim­pli­fied com­mu­ni­ca­tion among the apps. It is there­fore much bet­ter for a farm if they can arrange and doc­u­ment com­plet­ed work with a stan­dard­ised sys­tem. With the 365Crop app, farm­ers can send work orders direct­ly to employ­ees' phones from the 365FarmNet plat­form. Most medi­um-sized and large farms also have to deal with the chal­lenges of coor­di­nat­ing machines. For fleet man­age­ment, 365FarmNet has the 365Active app. With this app, farm­ers can keep an eye on their fleet. The app records the work­ing, trav­el and idle hours of the machines, their cur­rent posi­tions and past routes. By con­nect­ing addi­tion­al hard­ware com­po­nents, farm­ers can also doc­u­ment crop cul­ti­va­tion mea­sures in the 365FarmNet plat­form auto­mat­i­cal­ly and seam­less­ly, from any­where and at any time. This means that with the help of the 365Active app and addi­tion­al hard­ware com­po­nents, machines, imple­ments and even sys­tems can be effec­tive­ly digitalised.
In sum­ma­ry: Elec­tron­ic tools are becom­ing more and more impor­tant in the every­day lives of farm­ers. Now that peo­ple are get­ting more used to using smart­phones and agri­cul­ture apps, they expe­ri­ence few­er obsta­cles and have few­er reser­va­tions. It is impor­tant to men­tion that here there is a high poten­tial to forge ahead with dig­i­tal­i­sa­tion in the agri­cul­tur­al sec­tor thanks to these mod­ern and use­ful applications.